IslamicFinance.com ranks Al Rajhi as world's largest Islamic Bank
Gulf based banks dominate Global Islamic Bank Ranking Chart
Islamic Finance industry title IslamicFinance.com ranks Al Rajhi Bank, Kuwait Finance House and Dubai Islamic Bank as top three biggest Islamic Banks globally.
The associated ranking application 'The Islamic Bank Chart' released by IslamicFinance.com to visualise Islamic Banking ranking data allows for the comparison of top ranked banks, as well as the ability to filter by country or to select a specific bank.
Based on the rankings Gulf based banks dominate with Al Rajhi bank being ranked as the worlds biggest Islamic bank based on assets of over $82 billion, followed by Kuwait Finance House on $56.8 billion and Dubai Islamic Bank on $33.73 billion.
Ranking Criteria
Only wholly Sharia compliant banks were considered for the ranking, windows based operations are not included. Asset data is based on information available from latest available annual reports and where appropriate the value was converted into US dollars using the average exchange rate for 2015.
Islamic Banking Ranking
The Islamic Bank Chart is available on the homepage of IslamicFinance.com and within the Islamic Banking section. A consistent theme within the data is the continued growth of the Islamic finance market and specifically the assets held by Islamic Banks which continue to display healthy increases on a year by year basis.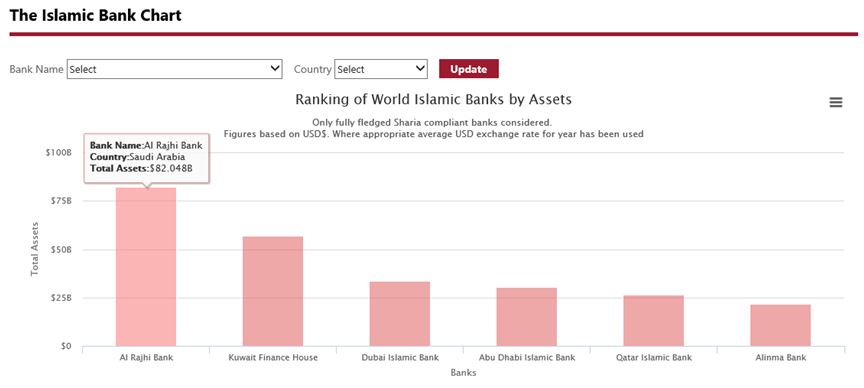 Breakdown of Islamic Finance Segments by Region
Overall, Islamic finance assets are heavily concentrated in the Middle East and Asia, although the number of new markets is expanding. The GCC region accounts for the largest proportion of Islamic financial assets as the sector sets to gain mainstream relevance in most of its jurisdictions; the region represents 37.6% of the total global Islamic financial assets (see Table 1.1.1.1). The Middle East and North Africa (MENA) region (excluding GCC) ranks a close second, with a 34.4% share, buoyed by Iran's fully Sharīʿah compliant banking sector. Asia ranks third, representing a 22.4% share in the global total, largely spearheaded by the Malaysian Islamic finance marketplace.