Moderate Sukuk gains pulled down by Greek uncertainties

Commentary by RHB Global Sukuk Markets Research, Kuala Lumpur, Malaysia
The Bloomberg Malaysia Sukuk Ex-MYR Total Return Index (BMSXMTR) saw marginal gains of 0.02% W-o-W to 101.38 (vs. +0.29% to 101.36 in week prior).
Similarly, the Dow Jones Sukuk Total Return Index (DJSUKTXR) inched 0.11% higher to 155.00 (vs. +0.45% W-o-W to 154.84), recovering YTD gains by 11bps to 1.65% (vs. +45bps to 1.53%). BMSXMTR yields were also unexciting narrowing 0.5bps to 2.277% (vs. -4.8vps to 2.282%).
Sukuk returns ended the week with most of its early-week/post-FOMC meeting gains erased following days of heated discussions between Greece and its creditors, which ended with the former rejecting the preconditions (i.e. EUR8bn worth of tax rises, pension cuts and wage cuts) for the release of bailout funds. Additionally, US posted strong data: positive final revision of 1Q GDP to -0.2% YoY (from -0.7%), near 6-year high consumer spending of 0.9% MoM in May and 7-year high new home sales of 2.2% YoY in May. The top 5 gainers on the BMSXMTR were TUFIKA 4/19, SECO 4/24, TUFIKA 5/18, KFINKK 6/19 and ISDB 3/19, adding USD18.61bn in market value (week prior: +USD39.14bn).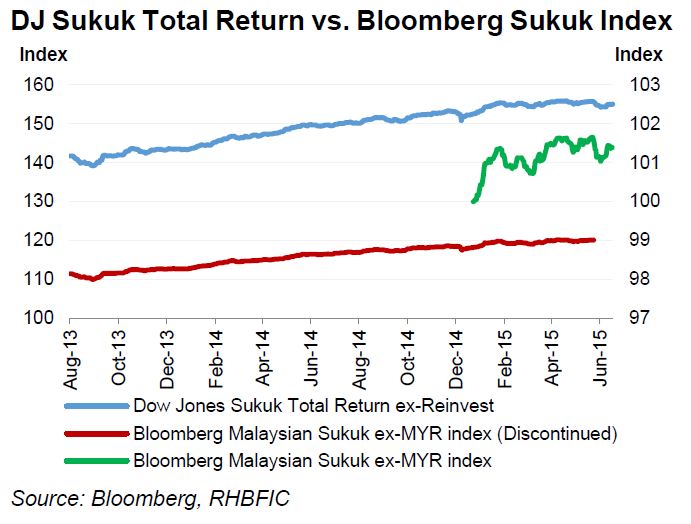 Pipeline flourish
Pipeline flourish with potential issuance by Turkey and ADIB AT1. Pipeline continue to flourish after last week's less hawkish FOMC meeting. Turkey (TURKSK, Baa3/NR/BBB-) is seeking to raise USD1.1bn to be priced in 4Q15 (along with USD400m-equivalent in JPY Samurai targeted for 2H15). Separately, Abu Dhabi Islamic Bank (ADIB, A2/NR/A+) reportedly received approval from UAE central bank for a USD1bn perpetual sukuk slated for 2H15, just before it seeks shareholder approval on 28 June to increase its Tier-1 sukuk programme size to USD3bn from USD2bn as well as sale of rights shares.