RHB Sukuk Week: Sluggish But Resilient
today
19 September 2015 GMT

Commentary by RHB Global Sukuk Markets Research, Kuala Lumpur, Malaysia
Sukuk returns stayed unexciting but resilient;
Similarly, the Dow Jones Sukuk Total Return Index (DJSUKTXR) posted a 0.03% gain to 154.63 (week prior: 154.58) with YTD return at 1.4%. The weighted average yield of BMSXMTR tightened 0.5bps to 2.359%.
Saudi Arabia (Aa3/AA-/AA, Negative)
The Finance Minister Ibrahim al-Assaf mentioned in an interview that Saudi Arabia may issue bonds or sukuk to finance expenditure, as low oil prices are impacting the kingdom's budget. The minister added that reserves are ample at c.USD600bn, public debt close to zero (2014: 1.6% of GDP; 2013: 2.2% of GDP) and now working on cutting unnecessary expenditure (fiscal deficit 2014: 3.4% of GDP; IMF 2015 fiscal deficit forecast: 19.4% of GDP).
Neutral. Saudi's reserves now stands at c.USD600bn, or 14% lower from early of the year as oil prices tanked. We see any USD sukuk raising to have negligible impact given their near-zero public debt. SECO 17-44 curve generally bear steepened, with yields widening 1-12bps to 1.49%-5.52%.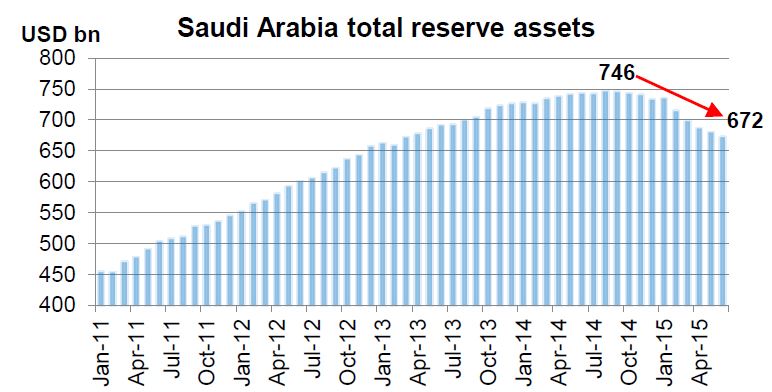 Saudi Arabia, Dubai and Bahrain tightened 5-6bps W-o-W, after widening by average of 19bps last month to 88bps, 198bps and 292bps respectively. Across Malaysia (190bps), Indonesia (242bps) and Turkey (291bps), risk premiums widened by 12bps W-o-W due to the slump in China's imports by -14% Y-o-Y in August 2015 vs. -8.1% in July 2015.