Unrest in the Middle East limits sukuk gains over the week
In a research note, RHB Research reported the Bloomberg Sukuk Market Return Index (BMSSUTR) rose marginally 0.07% W-o-W (vs. +0.13% in week prior) to 119.71, bringing YTD return to 1.23% (vs. 1.23% in week prior). The Dow Jones Sukuk Total Return Index (DJSUKTXR) rose 0.06% W-o-W (vs. +0.24% in week prior) to 154.87, with YTD returns to 1.56% (vs. 1.50% in week prior).
The expanding Yemen civil war and Iran's disputes with UN added geopolitical risk premiums back to oil (Brent +8.7% W-o-W to USD59.2/bbl) and the Middle East markets, overall reversing sukuk gains out of FOMC's dovishness last week. Similarly, 10y UST ended at 1.99%, returning to last week's levels after touching 1-month lows of 1.87% on Tuesday. The top 5 gainers in the BMSSUTR during the week were QATAR 23, SECO 22, ISDB 19, SECO 24 and SECO 23 adding market value by USD3.1bn.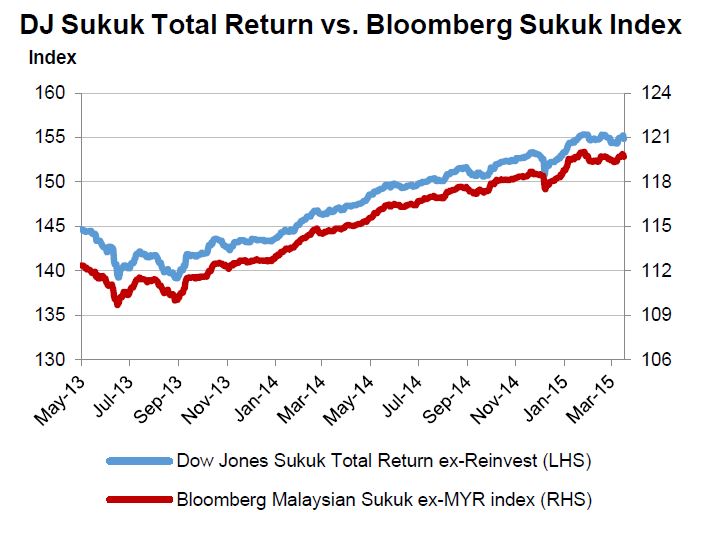 [/caption]
UAE Shariah Board Reforms
Sukuk primary market should be supported as UAE forms federal Shariah Board by 3Q15, where the board will assess standards of Islamic financial products; whether it conforms with Islamic creeds. As a comparison, Malaysia established its board in 1997, therefore we think the Sharia Board formation is overdue, but is a positive step towards building confidence in sukuk products and should support sukuk issuance toward end of 2H15. Nevertheless, it still depends on the US Fed rate hike decision. Risks loom in the region, where Saudi Arabia led air strikes in Yemen and pressured oil prices by c. 9% W-o-W (week prior -5%) to USD59/bbl.
Source: RHB Global Sukuk Markets Research, Kuala Lumpur, Malaysia